Do you like outdoor sports?  Now there's a great way to increase your outdoor fun by giving you a "VIP" seat at each sport event and getting whatever you want to see in front of your eyes.  That's APEXEL NV008 night vision binoculars.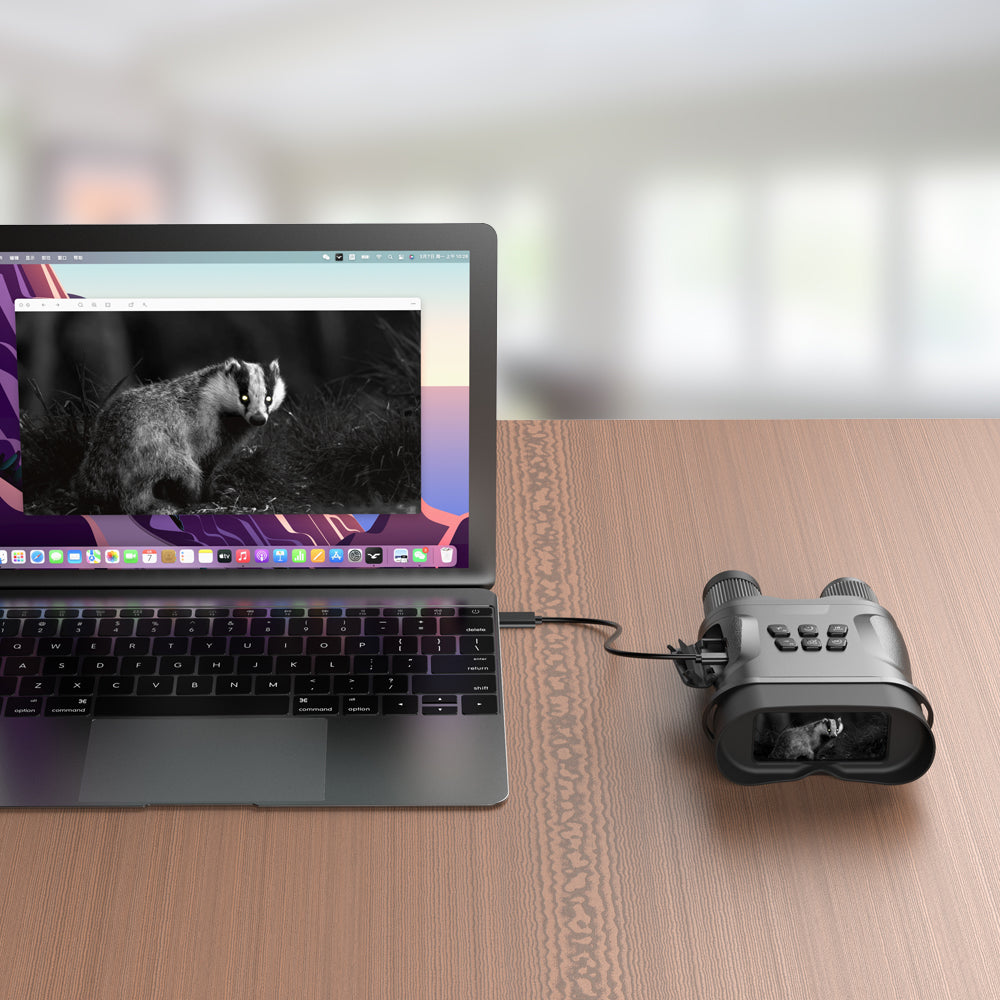 Binocular-loving photographers know that night vision binoculars are also known as night vision instruments.  It is an instrument that can observe in an all-dark or low-light environment.  
Night vision binoculars were first used in military applications.  After widely used in criminal investigation, safety prevention, forest fire prevention, electricity and communication line patrol, construction sites, breeding farms, farm care, even tourism and other fields.  APEXEL's new NV008 night vision binoculars give you a "VIP" seat at every sport event.  Factory direct, $10 off immediately, get it. 
1.APEXEL brand introduction  
The NV008 night vision binoculars are a new night vision device developed and manufactured by APEXEL. Founded in 2003, APEXEL is committed to providing the best user experience through innovative design. 
It is an optical solutions company that designs, develops and manufactures optical components and components using high-precision nanoscale features.  As the world's most award-winning mobile lens, the brand has been awarded more than 100 patents worldwide and is renowned for its first-class design and technology.  
In addition to night vision equipment, APEXEL's main products also include lenses, selfie sticks, tripods, ring lights and other photographic accessories, binoculars, monoculars, microscopes, rangefinders and other optical instruments.  If you are interested in night vision and want to buy other lenses, you can also check out the Apexel website. You may have unexpected results.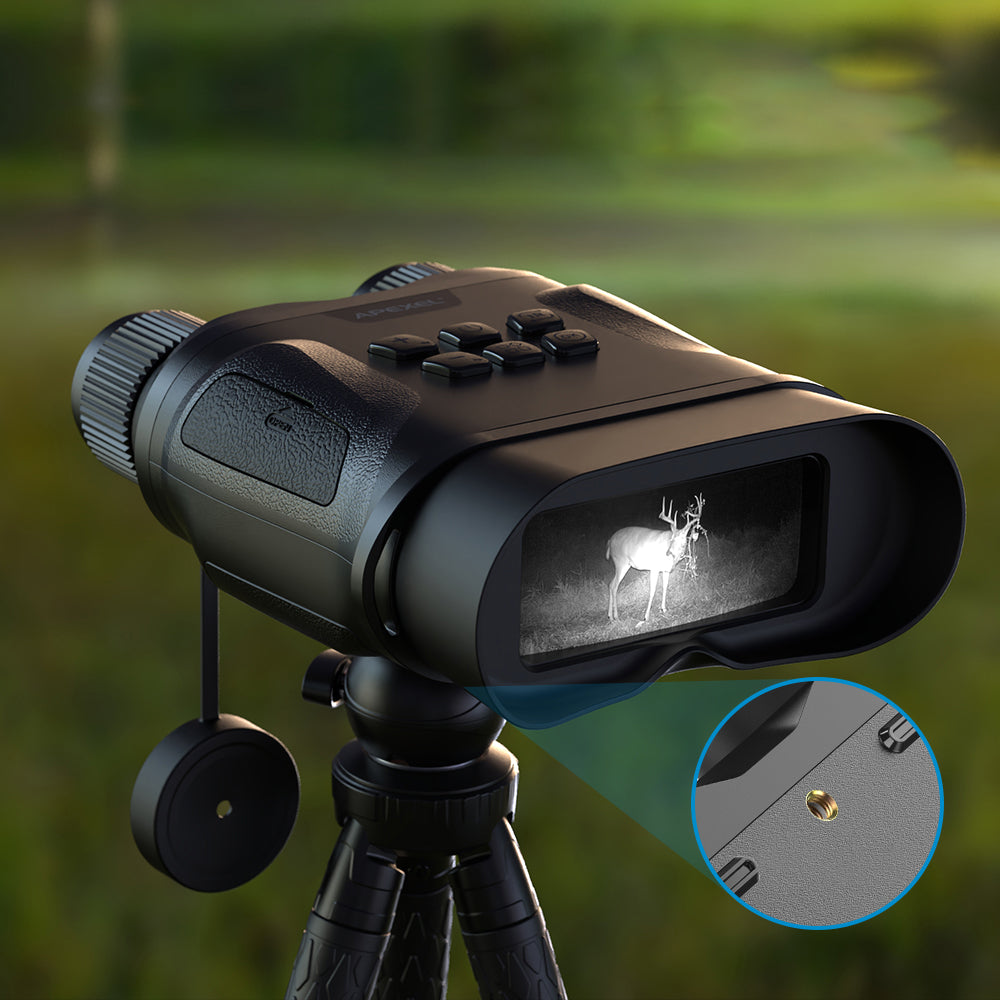 Without further ado, today we are going to focus on the NV008 night vision binoculars. Follow me. 
2.NV008 Night vision binoculars advantage  
(1) Ultra-low light infrared lighting  
The Apexel NV008 night vision binoculars use ultra-low light infrared
illumination.  It has a higher resolution than ordinary night vision.  Dual-use, low-light full color night vision, no light full night vision, high sense bright pixel CMOS night vision effect, bringing more incredible display effect.  
(2) Magnify and broaden your horizons  
The APL-NV008 is also equipped with 4x telephoto + 3x digital zoom, with visual magnification up to 12x, expanding your field of vision!  Lets you view and capture sharp photos and videos in the dark.  You can save everything on a memory card.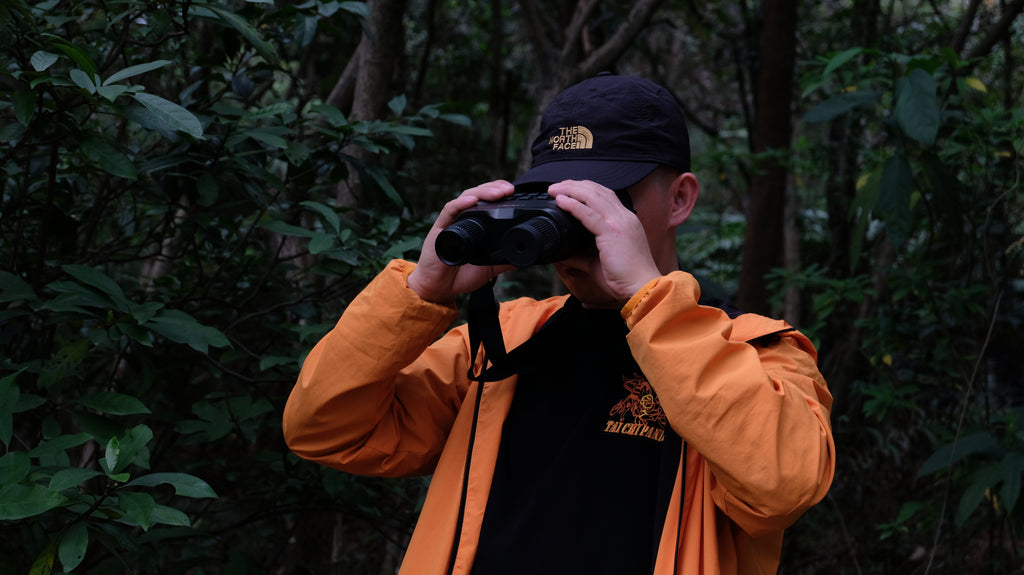 (3) Widescreen LCD screen  
Thanks to its large display, the Apexel NV008 night vision binoculars offer exceptional viewing comfort through binoculars.  Integrated infrared lights allow you to easily observe in total darkness and provide you with remote vision through optical and digital zoom. 
(4) Affordable and durable  
IPX4 waterproof can be used in normal rainy days, but do not immerse in water.  External power supply via mobile power supply or TYPE-C USB power supply for longer observation.  
It's so cheap, it's like a gift.  Buy a premium NV008 night vision binoculars for just $189.  
(5) Precision optical structure  
All-optical FMC multi-layer broadband blue coating reduces environmental and temperature effects and provides clear and crisp images.  High degree of color reduction, no color difference observed during the day, even at night, turn on the infrared 100% darkness can be clearly observed.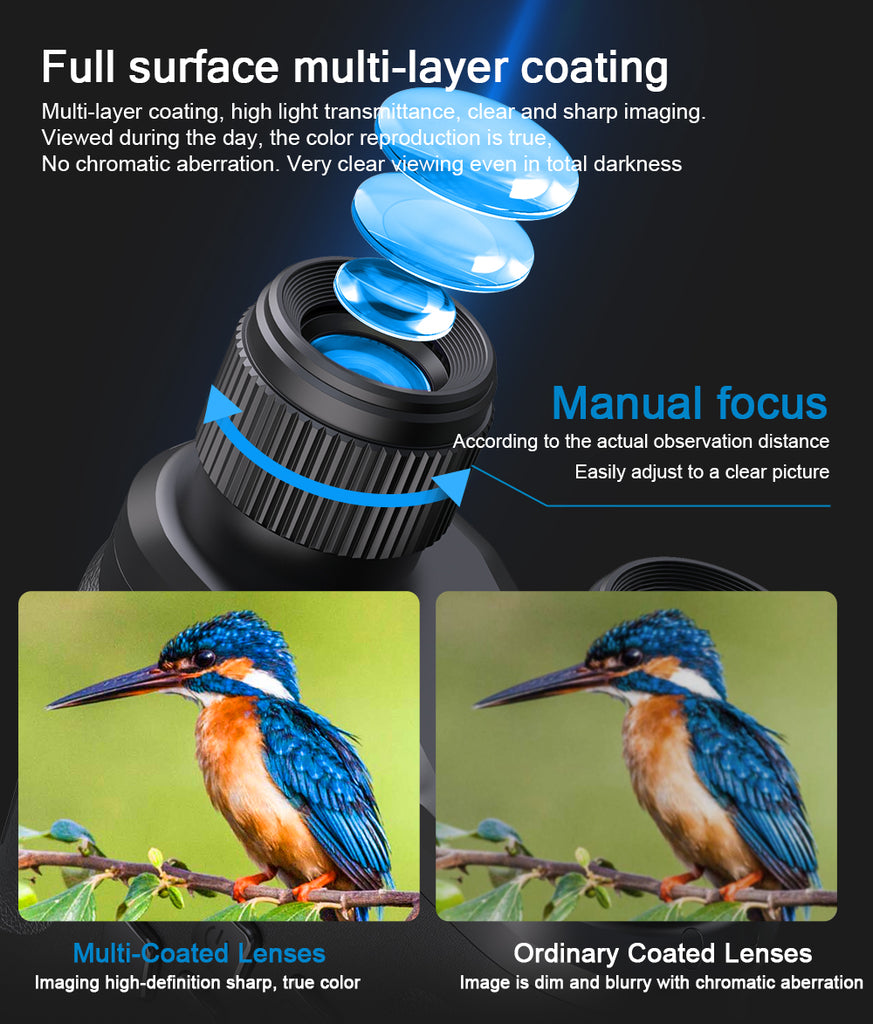 (6) Easy to use  
Night vision binocular are easy to use, well designed, suitable for people wearing glasses, daytime use of night vision goggles, just turn on the power button to observe, adjust photos, video and playback.  A tripod mounting thread is included so you can mount binoculars on your tripod and connect them to a computer and TV to view photos and videos.  You can use it as a handheld camera and a night camera with good image quality. 
(7) The Apexel NV008 night vision binoculars are widely

used  
The NV008 night vision binoculars tell you what is close at hand. Let you feel the HD experience up close.  Broaden your horizons.  It's perfect for outdoor enthusiasts and wilderness adventurers.  It is also a handheld device and essential for bird watching, wildlife, hunting, hiking, mountaineering, camping, surveillance and travel.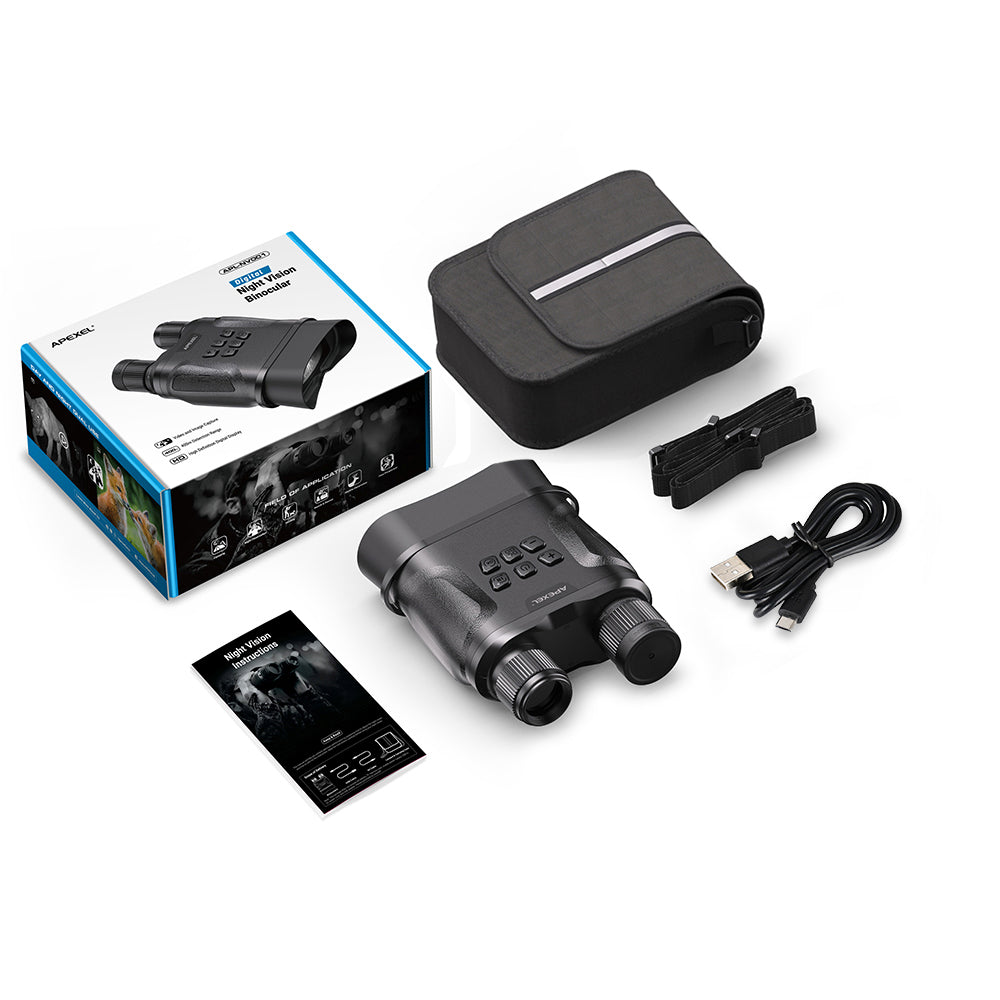 3. Worry-free after-sales service
Extend your interest by buying NV008 night vision binoculars.  Take you leisurely enjoyment, taste life.  
When you place the order successfully, I will bear the postage and send it to you. All risks and expenses will be borne by us.  When you receive them, apply them. If they are not clear enough, or if you are not satisfied in any way, for whatever reason, please contact us in time to help you solve your problem.  If you try it and think it's great, it's yours, and it will be an endless source of happiness.